Express Clinics – OPD Services
Out Patient Department or OPD Services @ Express Clinics is a place where patients are provided with the treatment and diagnosis of the ailment which is done on advice of a medical practitioner or doctor. Express Clinics offers OPD services under the Primary care category, where patients can avail services from General Physician as well as specialists and super-specialists. Our OPD Services follow our signature Integrated Health Management (IHM) principles, offering a range of consultation & diagnostic services covering a wide range of ailments and health related issues at one location. This translates into a faster consultation-investigation-treatment cycle for our customers as compared to the traditional approach to medicine.
Patients can opt for consultation as well as investigation using diagnostic tests in areas such as Ophthalmology, Audiometry, Cardiology, Gynecology, Dental, Physiotherapy, Radiology, Pathology and General health & wellness. Patient Reports are available online and customers can have their reports made available for consultation at any of our clinics pan India when they are travelling.
All Doctors on board are Certified and experienced in their respective fields. They are hired using a proven selection methodology and credentialing of their qualifications by a team of onboard Doctors.
We offer OPD Services both in-house (at our clinics) as well as on-site to corporate customers, Residential societies, professional Associations, Schools and academic Institutions.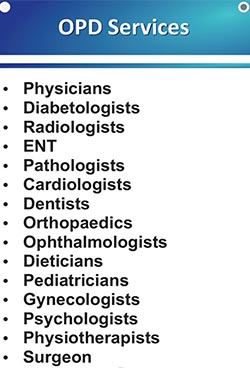 Consultation chambers – for consultation and post-report discussion with a qualified medical expert to get a treatment plan and options.
Examination & Diagnostic rooms – where physical checkup, investigation and diagnostic tests can be undertaken such as Stress Tests, ECG, 2D-Echo, X-Ray, Sonography, Mammography, BMD, Vision Testing, Audiometry, Pulmonary Function Testing, etc.
Pharmacy – for getting prescription and OTC medication as well as a range of health & wellness, personal grooming and healthcare products and devices.
Consultation services available at those clinics include:
| | |
| --- | --- |
|          MBBS Doctor |          Physiotherapist |
|          Dentist |          Cardiologist |
|          Dietician |          Oncologist |
|          Physician |          Neurosurgeon |
|          Pediatrician |          Gynecologist |
|          Ophthalmologist |          Dermatologist |
|          ENT specialist |          Psychologist |
|          Orthopedician |          Breast Surgeon |
|          Proctologist | |
From consultation with qualified MBBS doctor, highly qualified specialists to an advanced laboratory and imaging facilities, Express Clinics offers the best OPD services to patients.
A MBBS graduate or General Physician is trained to give primary health care and is generally the first point of care to the patient. MBBS Doctors or General Physicians do the preliminary investigation and recommend a basic treatment plan for different types of diseases, illnesses or injuries. In certain cases they also recommend consultations through a specialist or super specialist based on their initial investigation.
Dentists take care of your oral problems. They remove tooth decay, fill cavities, examine x rays, place protective plastic sealants on children's teeth, straighten teeth, and repair fractured teeth. They also perform corrective surgery on gums and supporting bones to treat gum diseases. Dentists extract teeth and make models and measurements for dentures to replace missing teeth. They also administer anesthetics and write prescriptions for antibiotics and other medications.
Dietitians are specialists in food and nutrition. They give suggestions to individuals on what to eat and what to keep away from to keep up a healthy life and also to accomplish a particular health related aim. They evaluate patient's needs and diet; create meal plans keeping in mind the cost and patient's choice.
MD Physicians are doctors who prescribe, recommend or furnish medicine or drugs, or perform any surgical operation of whatever nature by the use of any surgical instrument, procedure, equipment or mechanical device for the diagnosis, cure or relief of any wounds, fractures, bodily injury, infirmity, disease, physical or mental illness or psychological disorder, of human beings. They examine patient's health problems using some pathology tests. Based on the results of pathology tests, they advice the exact treatment and prescribe medicines to heal the illness or injury.
Pediatricians treat infants and children. They examine, diagnose, and treat children with variety of injuries and illnesses that occur in children. They also administer the vaccinations that are to be given to protect the infants to the young adults from diseases such as hepatitis B, diphtheria, polio, measles, and the mumps. They monitor the child's growth and development also.
Ophthalmologists are qualified eye doctors who diagnose and treat eye diseases and injuries. They also perform surgical procedures, such as keyhole surgery and laser surgery. They manage emergency eye clinics, outpatient clinics or other specialist eye clinics.
ENT specialists are also known as otolaryngologists. They are responsible for treatment of the ears, nose, and throat, as well as the related areas in the head and neck. Specialized skills of ENT are to check disorders of the upper pharynx and oral cavity, larynx (voice box), ears, nose and nasal passage, and face and neck.
Orthopedic doctors evaluate, diagnose and treat the patient's musculoskeletal injuries and diseases. The musculoskeletal system is made up of bones, muscles, ligaments, joints, nerves and tendons. Orthopedic doctors mostly handle fracture or broken bones.
Physiotherapists help patients who are physically unfit or disabled due to injury, disability illness or ageing to improve their movement. They take care of children, the elderly, stroke patients and people with sports injuries. They cover conditions like neurological, neuromusculoskeletal, cardiovascular and respiratory.
Cardiologists are the specialists who diagnose, treat and prevent diseases that mainly affect the heart and blood vessels. They treat ongoing, long-term illnesses or will respond to emergency, potentially life-threatening situations. Some of the diseases include high blood pressure, angina, heart disease, heart failure, cardiac arrest and coronary heart disease. Cardiologists develop their role in areas of sub-specialty interest, such as: interventional, electrophysiology, transplant, cardiac imaging, and heart failure, pediatric.
Oncologists are physicians who specialize in studying any types of cancer. They do cancer diagnoses, suggest patients to do specific tests and on the basis of test results and physical examinations, they prescribe specific cancer information to patients, monitor treatment plans and improve patients' quality of life. They focus on curing patients with chemotherapy drugs, pain medications or replacement hormones.
Brain surgeons, also known as neurosurgeons, examine, diagnose and surgically treat issue of the nervous system. Neurosurgeons do surgery on the brain, spinal cord and peripheral nerves to evacuate tumors, reduce constant pain and treat injuries, vascular disorders and sicknesses, for example, Parkinson's and epilepsy. They likewise utilize surgery to ease degenerative spine disorder and scoliosis diseases of spinal cord. Mind specialists may center around the adjustment of disfigurements and treatment of infections of the spinal rope, for example, degenerative spine issue and scoliosis. Different regions of sub-specialization incorporate pediatric neurosurgery and radiosurgery, the utilization of radiation to treat tumors.
A gynecologist diagnoses and treats disorders related to reproductive system of women, such as uterus, ovaries, vagina, etc. They may perform annual testing and exams, diagnose illnesses and infections, treat hormonal abnormalities, prescribe medication and counsel patients about birth control or fertility options. Gynecologists may choose subspecialties, such as gynecologic oncology, which focuses on cancer related to women's reproductive organs.
Dermatologists are therapeutic specialists who analyze and treat illnesses of the biggest organ of the human body that is skin. They advise patients how to take care of skin and make it healthy. Dermatologists take medical histories and utilize a dermoscope, or amplifying or illuminated device to identify diseases or malignancies. They may utilize diagnostic tests, for example, biopsies, to distinguish the abnormalities and decide suitable treatments. Different of specializations incorporate corrective dermatology; pediatric dermatology; and dermatopathology, or the investigation of skin infections.
Psychologists think about subjective, passionate, and social procedures and human conduct by watching, translating, and recording how individuals identify with each other and their surroundings. Developmental psychologists look into behavioral changes over a man's life. Forensic psychologists work with law-authorization staff and go about as specialists in different legal cases. Research psychologists ponder the reasons for specific behavioral patterns. Industrial-organizational psychologists work with organizations to keep up a superb workplace. Clinical psychologists work to treat and analyze mental disorders. School psychologists work with guardians, teachers and students to cultivate learning, address school-related issues and keep a safe environment. Social psychologists look at behavioral patterns in the society.
A breast surgeon has practical experience in the surgical evacuation of breast tumors. A breast surgeon additionally spends significant time in state-of-the-art breast reconstructive methods.
Proctologist diagnoses and treats diseases and disorders of anus, rectum, and colon. They diagnose diseases and disorders utilizing techniques, instrumental inspection of rectum and colon. They treat diseases and disorders by surgical removal or repair of diseased or malfunctioning parts, or by prescription of medication and suggestions for adaptation of patient's living habits.
Preventive Health Packages
Packages Parameters & Offer
Discount
MRP
OFFER PRICE
Parameters
Add to Cart
Senior Citizen Annual Health
45%
24,820/-
13,650/-
70
Diabetes Annual Health Care
59%
15,780/-
6,499/-
69